brainLight Shiatsu Massage Chair Gravity PLUS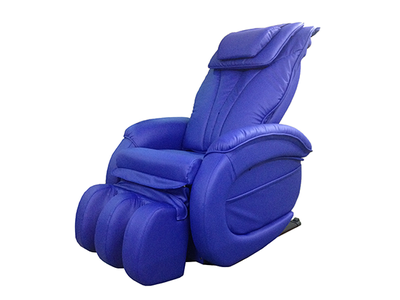 ---
Vertical range of the massage rolls: 69 cm
Position angles of the chair: 116° – 183°
Operating voltage: AC 100 – 240 V; 50 Hz – 60 Hz
Wattage: 100 W
Motor voltage: DC 24 V
Weight: 77 kg +/- 3 kg
Dimensions: Approx. L 114 (178) cm x W 97 cm x  H 117 (86) cm
(The numbers in brackets relate to the dimensions of the chair
reclined fully with the footrest in horizontal position.)

• Various types of massage:
1. Acupressure massage
2. Vibration massage
3. Kneading massage
4. Tapping massage
5. Stretching massage
6. Rolling massage
7. Combination massage
8. Calf massage with kneading and swing function
9. Shoulder-tapping massage
10. Shiatsu-Massage
• Massage types can be selected separately or in combination
• Individually selectable at different levels via remote control
• Various sitting and lying positions can be selected manually
• 4 automatic sitting positions
• Acupressure point detection system
• Up to 6 intensity settings
• Differentiated adjustments possible (position/intensity/massage type/massage region/automatic)
• Vibration massage in seat and arm area (4 different cycles) can be combined with manual functions
• 11 automatic programs
• Stretching/swaying function
• Calf massage can be turned on or off during automatic programs
• Specific massage regions individually selectable:      
neck, shoulders, lower back
• Heat function for the back area
• Timer function
• Back and calf rests can be moved up and down simultaneously or independently
• Adjustable back rest: 116° to 183°• Length of the calf rest can be adjusted manually
• Automatic switch-off
• Clear LCD display
• A range of colors available
• Easy-care leatherette (real leather on request)
• Support cushions for head and neck easily replaceable
• Very energy-saving
brainLight Shiatsu Massage Chair Gravity PLUS

Efficient periods of rest are second to none for recharging and replenishing your energy levels. This in turn allows for the body, mind and spirit to achieve a harmonized state of homeostasis. Massage, one of the oldest forms of therapy on the planet, subtly supports and helps you ease into taking time off from the daily grind of reality. To that end, the brainLight-Shiatsu-Massage Chair 3D FLOAT PLUS functions as a practical "two-in-one" personal massage therapist and elegant, high-end furniture item.

Regularly relieving your spine and intervertebral disks, combined with pleasant massage movements, contribute to a profound sense of relaxation and regeneration. The brainLight massage chairs render this invaluable service to you at your fingertips.

No appointments necessary, available at any time, without treatment costs or stressful waiting time, our massage chairs open up a world of luxury and an oasis of relaxation to you. Our massage chairs are best used in combination with the Touch Synchro complete or the relaxTower as Complete Systems.


Can be upgraded with the brainLight relaxTower or brainLight Touch Synchro complete.
brainLight-Shiatsu-Massage Chair Gravity PLUS
3.446,22 € net price, 4.101,– € gross price *

brainLight ® Touch complete + Gravity PLUS
4.700,– € net price, 5.593,– € gross price *

brainLight XL Touch complete + Gravity PLUS
5.200,– € net price, 6.188,– € gross price *

brainLight relaxTower Gravity PLUS
5.250,– € net price, 6.247,50 gross price (without coin acceptor) *
5.600,– € net price, 6.664,– gross price (with coin acceptor) *

brainLight XL relaxTower Gravity PLUS
5.750,– € net price, 6.842,50 gross price (without coin acceptor) *
6.100,– € net price, 7.259,– gross price (with coin acceptor) *


*Shipping costs excluded.
Fact sheet

User manual
relaxTower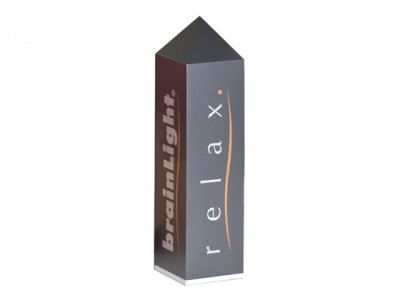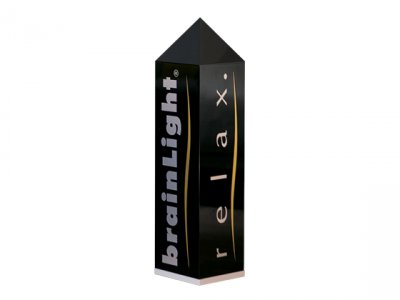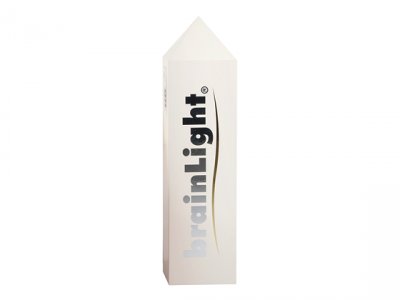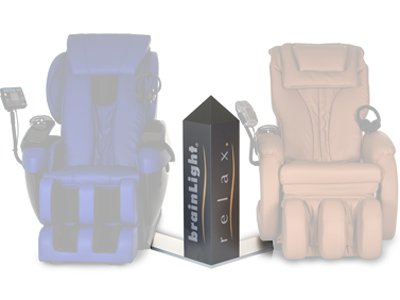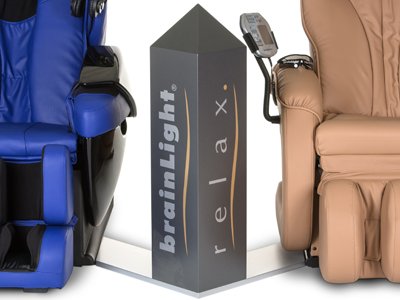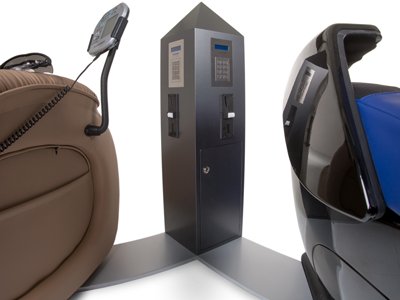 ---
• 1 brainLight relaxTower with brainLight-Shiatsu-Massage Chair
• 1 pair of visualization glasses (LEDs: white) with intensity regulator
• headphones with volume control
• basic version: 36 Instant Programs, addressing various topics
• integrated coin slot for tokens or various currencies
• LCD-display showing program number and remaining session time
• Statistical functions: number of individual sessions, total number of all sessions
• Lockable compartment for coin and program card replacement
• Color relaxTower: TITANIUM or BLACK
• Color massage chair: black; other colors on request
brainLight relaxTower
The brainLight relaxTower is the further development of the successful brainLight relaxation system "Touch Synchro complete", specially designed for commercial use. At the touch of a button, the user experiences a perfectly coordinated relaxation for mind, body and spirit. The core of the relaxTower is a state-of-the-art computer, which harmonizes the brain waves via light and sound impulses and controls a Shiatsu Massage Chair at the same time. This technology is unique throughout the world.
Available as

relaxTower      

XL relaxTower   
 
with 36
basic programs

with 36
basic programs

 
 

+ 35 XL programs    
 
 
 

 
Datenblatt herunterladen
Download
(Datenblatt_bL_rT_Gravity_PLUS_prices_E_RL.pdf | 0 Downloads) 522.15 kB