brainLight 4D-Shiatsu Massage Chair Zenesse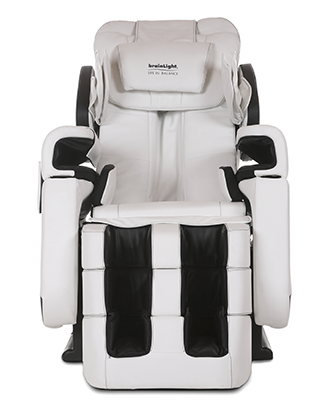 ---
Vertical range of the massage rolls: 77 cm
Position angles of the chair: 110° – 216°
Operating voltage: AC 220 V; 50 Hz – 60 Hz
Wattage: 150 W
Weight: 120 kg +/- 3 kg
Dimensions: Approx. L 148 (200) cm x W 78 cm x H 120 (98) cm
The numbers in brackets relate to the dimensions of the chair reclined fully with the calfrest in horizontal position.
• State-of-the-art 4D massage technology: body sensor for detecting your individual back and neck length as well as depth, and shoulder width and back contours; the massage is automatically adjusted to the measurements taken
• Acupressure point detection system
• Massage rolls can be positioned precisely
• Air pressure massage in 3 intensity settings for the following areas, selectable individually or in combination:
arm/hand, thighs, upper arms/shoulders, foot/calf
• Positioning of the air pressure massage cushions for the upper arm/shoulder area adjustable in 5 steps
• 5 types of back massage: Kneading, Tapping, Vibration, Kneading + Tapping, Shiatsu
• Back massage: up to 6 speed settings and 12 3D intensity settings, both can be manually selected
• Foot sole massage: automatic sequences I and II, or manually adjustable
• Seat swing function with 2 speed settings for releasing tension in the hip/pelvis area
• Infrared heating function in the back area, can be turned on/off individually
• Sitting/lying positions can be adjusted manually; separate adjustment of backrest, seat angle and footrest possible
• 4 automatic recline positions:
Floating 1: lightly reclined chair position that facilitates a sensation of floating
Floating 2: further reclined chair position that facilitates a sensation of floating
Heart Balance Position: chair position that particularly relieves the spine and supports circulation
Inversion: chair position that stimulates the activity and oxygen supply of the brain
• Emergency stop button: the massage can be terminated immediately and easily from any chair position
• Timer function
• Automatically turns off at the end of the program.
• Remote control with clear LCD display
• Remote control holder can be optionally installed
• Additional possibility to control the massage chair via an App on your own iOS device (iPhone, iPad, iPod) from iOS version 8.0
• 2 accessory bags for storing the remote control, your tablet, mobile phone, books, magazines, etc.;
can be attached to both side panels via velcro
• Fabric case for storing the brainLight® visualization glasses or your own glasses during a brainLight® session
• Insert cushion in the back area; can be easily removed for a stronger back massage
• Insert pads in the foot area; can be easily removed for a stronger foot sole massage
• Tripartite calfrest that can be extended by 22 cm in order to adjust to your height
• Floor-protecting castors on the bottom of the calfrest
• Easy-care artificial leather (real leather on request)
• Can be combined with the brainLight relaxTower PRO or brainLight Synchro PRO chair.


brainLight 4D-Shiatsu Massage Chair Zenesse
Our conception of the brainLight-4D-Shiatsu Massage Chair Zenesse has been inspired by Eastern philosophy. We have created an elegant interplay of contrasts — yin and yang, soft and strong — that is crucial for harmonizing body, mind, and soul.

Zenesse can give you a strong massage, stretch and strengthen you, but can also provide gentle comfort — whatever you need to reconnect to yourself. Thanks to an intelligent body sensor, the massage chair adjusts its movements not only vertically, horizontally, and in its massage depth to your body, but also detects your individual back contours — that is what we call "4D" technology. The massage techniques are modeled on both Swedish Massage Therapy and Japanese Shiatsu and work along your acupressure points in order to stimulate the flowing of your "Qi" energy. The latter concept in turn is based on the meridian theory of Traditional Chinese Medicine (TCM). Indulge yourself.

Commercial use: For relaxation and stress prophylaxis in spa areas of hotels; chill-out areas; gyms; waiting rooms, e.g. at alternative health practitioners, physiotherapists, medical clinics, cosmetic parlors and seminar centers, or as part of corporate health management in chill-out and relaxation rooms for employees.
Private use: For massage treatments at home. Regular release of tension held in the spine and vertebrae combined with comforting massage motions will offer relief and regeneration - whenever you wish: without having to book an appointment, without queues in the waiting room, and without additional treatment costs.
Can be upgraded with the brainLight relaxTower or brainLight Touch Synchro complete.

brainLight 4D-Shiatsu Massage Chair Zenesse
5.400,– € net price, 6.426,– € gross price *

brainLight Touch Synchro complete + Zenesse
6.500,– € net price, 7.735,– € gross price *

brainLight XL Touch Synchro complete + Zenesse
7.000,– € net price, 8.330,– € gross price *

brainLight relaxTower + Zenesse
7.400,– € net price, 8.806,- € gross price (with coin acceptor) *
7.050,– € net price, 8.389,50 € gross price (without coin acceptor) *
brainLight XL relaxTower + Zenesse
7.900,– € net price, 9.401,– € gross price (with coin acceptor) *
7.550,– € net price, 8.984,50 € gross price (without coin acceptor) *

*Shipping costs excluded.
Factsheet

relaxTower PRO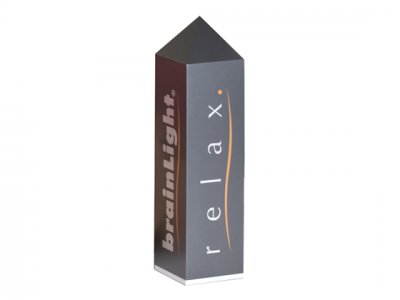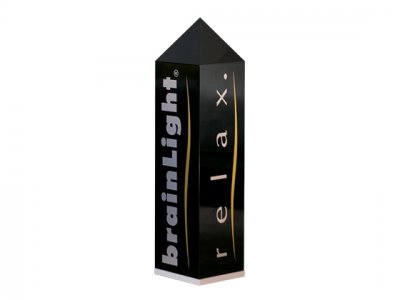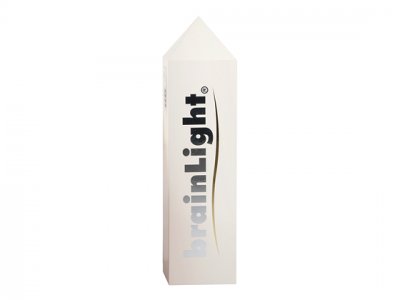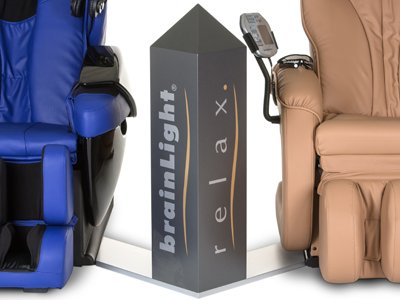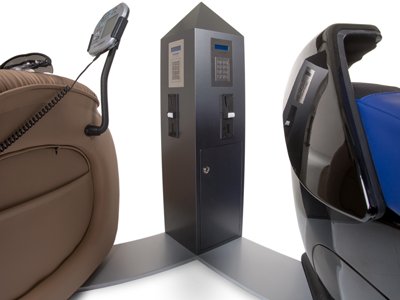 ---
• 1 brainLight relaxTower with brainLight-Shiatsu Massage Chair
• 1 pair of visualization glasses (LEDs: white) with intensity regulator
• headphones with volume control
• basic version: 36 Instant Programs, addressing various topics
• integrated coin slot for tokens or various currencies
• LCD-display showing program number and remaining session time
• Statistical functions: number of individual sessions, total number of all sessions
• Lockable compartment for coin and program card replacement
• relaxTower available colors: Titanium or Black
• Massage chair available colors: Black; other colors on request
brainLight relaxTower PRO
The brainLight relaxTower PRO is the further development of the successful brainLight relaxation system "Synchro PRO", specially designed for commercial use. At the touch of a button, the user experiences a perfectly coordinated relaxation for mind, body and spirit. The core of the relaxTower is a state-of-the-art computer, which harmonizes the brain waves via light and sound impulses and controls a Shiatsu massage chair at the same time. This technology is unique throughout the world.
Available as

• relaxTower PRO with 31 English Basic Programs
• relaxTower PRO with 31 English Basic Programs + 3 additional English Program blocks
Datenblatt herunterladen
Download
(Factsheet_rT+Tc_Zenesse_E.pdf | 0 Downloads) 1.9 MB